Power Family Visits Park Ridge Classic Film Series: Part I
Originally published on 5/20/13 in the Crossed Swords movie blog…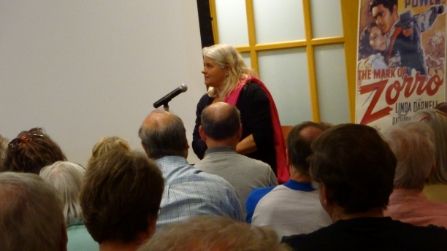 This past Thursday night we were honored to have Tyrone Power's youngest daughter, Taryn, and her daughter, Valentina, as guests prior to our screening of The Black Swan (1942). Taryn is also the daughter of actress Linda Christian, so there were certainly enough things to ask about! On a personal note, I am extremely grateful to her for coming to Illinois and visiting the Park Ridge Public Library. It's not every day that the daughter of a Hollywood legend passes through our town. With the assistance of my friend, Annette Bochenek, we invited Taryn and were thrilled to spend time with her and her daughter.
Our patrons were equally appreciative of her generosity and for making herself accessible to them. They made a point of expressing this to her both before and after the show. Prior to the (significantly delayed) screening, Taryn answered some questions that we had come up with. Afterward, there was a Q&A with the audience. Her reminiscences about her famous parents and about her own life made for an interesting and entertaining evening. It's a unique perspective that adds much to our own understanding.
Tyrone Power with his two daughters, Romina and Taryn.

This event was designed as a surprise for our audience. (They didn't know she would be there, and yet it was still the biggest turnout of the spring at the Library!) This was not advertised because I wanted to thank those regulars who have been standing in line and attending our series week after week. Since seating is limited, I wanted to let them have time with her. No media or curiosity seekers. Only a room full of people who genuinely admire the movie legacy of Tyrone Power. In the weeks ahead, I will write more about this memorable evening. In the four years that I've been doing film programs for the library, I would have to rank this past Thursday at the top. It was a most rewarding evening for myself and for our film history program in general.
NOTE: We will share excerpts from our interview with Taryn in Part II of this entry. For now, we simply want to express our gratitude for her kindness. It is our hope that Taryn will return in 2014 when we celebrate Tyrone Power's centennial next May at the historic Pickwick Theatre.
Special guests Valentina and Taryn (with program host Matthew Hoffman).

Here are just two of the nice responses I've received from our patrons which I would like to share:
Hi Matthew,
Just wanted to send along a great big thank you for the presentation with Tyrone Power's daughter and granddaughter. They were so gracious, and their conversation gave new insights into the life and career of this classic Hollywood star.
Thanks for making our sleepy little town of Park Ridge a "Hollywood Hot Spot!"
Kindest regards,
Caroline 🙂
* * * * * *
Thank you for the AMAZING surprise! We loved it! The whole presentation was a treat, especially when it was followed by such a wonderful classic movie.
Tyrone Power may have died before I was born, but in my mind he still RULES the big screen. What a hottie! 🙂
Thanks again for giving us such a delightful evening!
Hugs,
Karen