"Here I was born, and there I died." ~Madeleine, Vertigo
WHAT: Vertigo (1958) on DCP
WHEN: February 9, 2017   2PM & 7:30PM
WHERE: Pickwick Theatre, Park Ridge, IL
HOW MUCH: $10 ($8 advance)/$6 for 2PM matinee
WHAT ELSE: Jay Warren performs prelude music beginning at 7:00 PM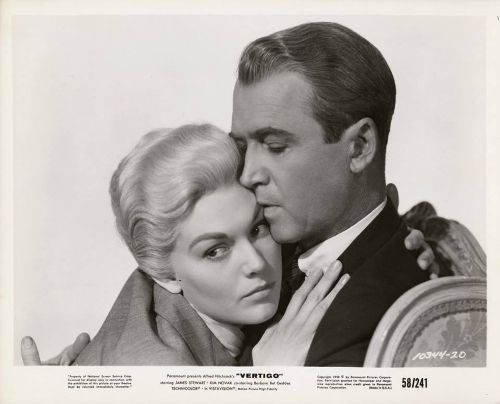 One of the most memorable film experiences I can recall as a kid was seeing an Alfred Hitchcock movie on the big screen. It was Rear Window, which starred James Stewart and Grace Kelly. This was Thanksgiving, 1983, when Hitchcock's Paramount films were being re-released theatrically after a long period of being out of circulation. I saw it with my dad and brother at the Mercury Theatre in Elmwood Park. It was, for a long time, the only Hitchcock film I had seen in a movie theatre. I was already familiar with the image of Alfred Hitchcock from watching his television series, but his films were a doorway into a whole other world. I was thankful to have experienced Rear Window when I did. Years later, when I finally saw Vertigo, I wished I had seen it, too, on a big screen. Nothing can duplicate the feeling of seeing a film for the very first time. It's an even greater experience to be able to sit in a theatre and see an old movie which, for the first-timer, is new. On February 9, the Pickwick Theatre Classic Film Series will be giving fans that opportunity to see one of the definitive works of Hitchcock the way it was intended.
Vertigo has been acclaimed as Alfred Hitchcock's masterpiece. In the 2012 Sight and Sound poll of the greatest films of all-time, Vertigo had become #1. Though the film's reception was mixed at the time of its release in 1958, primarily because American audiences didn't see the complexities at work, Vertigo's critical evaluation has risen over the decades. The film is recognized as a deeply personal work by Hitchcock. In fact, it is one of the most haunting films he ever made, enhanced by the score by Bernard Herrmann (who, coincidentally, also scored Citizen Kane, now the "second" greatest film of  all time). Vertigo stars James Stewart– a national treasure– and Kim Novak, who  was never more luminous. Both give intense performances in line with Hitchcock's vision of the story. Though Vera Miles had dropped out of the role in pre-production due to pregnancy, it's hard to see anyone other than Kim Novak in the dual role of Madeleine/Judy.
In the film, James Stewart plays Scottie, a police detective forced into retirement because of his fear of heights. Afterward, he is asked to trail the wife of an old college friend. The woman, Madeleine (Kim Novak), has been acting strangely as though possessed by the spirit of her great-great grandmother. Scottie follows her around San Francisco and tries to sort out the mystery of her behavior, but things are never what they appear to be. Vertigo is a story of doubles and deceit masterfully executed by Hitchcock.
We will be screening a DCP (digital) restoration of the film, which undoubtedly will follow the controversial 1996 restoration that had enhanced the film's color and sound at the expense of some minor tampering. Due to the addition of DTS sound, a new Foley track had to be created. (This is the track that provides the ambient/background sound in a motion picture.) So unless you are fortunate enough to see a rare 35mm IB Technicolor print of it somewhere (before it was altered), this restoration is the only one now circulating– the same one you'll find on dvd and blu-ray. For more about the details of the film's restoration, I recommend reading Vertigo: The Making of a Hitchcock Classic (1998) by Dan Auiler. Whatever the format, though, it's important that Vertigo be shown for our community. We are screening the film for film students and young movie buffs who have never seen it before, as well as for the older fans who have never seen it in a theatre. Vertigo isn't a film you watch on Youtube or on your iPad, or even on your television at home– no matter how big and high-res the screen. Shot in the widescreen format of VistaVision, Vertigo can only be fully appreciated when shown in the proper context– on a large screen with an audience. It might not be the ideal screen romance to show for Valentine's Day– unless you're a cynic– but I was looking for any excuse to book it!
Alfred Hitchcock, Kim Novak and James Stewart

Of the film's many remarkable attributes, one is struck by its rich color. Vertigo's use of color is remarkable because Hitchcock uses it to trigger memories. This is evident in the green that Judy wears in the second half of the film– a color Madeleine had been wearing when Scottie first saw her. The Edith Head fashions have, over time, become iconic. Throughout the film, reds, golds, and greens stand out, particularly in the clothing and set design. The most famous example of how color is used to great advantage is the famous "green tint" in the neon-lit hotel room. It is here where Judy emerges as the "new" Madeleine. In addition to the film's visuals, Bernard Herrmann contributes a haunting score that helps give the film a dreamlike quality. The scene of Scottie and Madeleine in the redwood park is a notable example of the otherworldly atmosphere that consumes the film.
Vertigo was filmed in San Francisco and the outlying areas as well as at the Paramount studio. The image of Stewart carrying Novak in his arms at Fort Point with San Francisco Bay and the Golden Gate Bridge in the background is one of the most famous images in all of cinema. Those who have been to San Francisco will recognize other familiar sites, including Lombard Street where Scottie resides. Though the scene at the redwood forest is sometimes mistaken for Muir Woods, the sequence was actually shot at Big Basin State Park. In addition, the Spanish mission used in the film is San Juan Bautista. (Like Madeleine, I too felt as though I had been there before, but in reality, I had visited  San Carlos Borromeo, another Spanish mission which had originally been considered for the location!)
It is through familiarity that Vertigo is best appreciated. In the initial viewing, one follows the intricacies of the story, and though the film is well-plotted, Vertigo is not a film about plot– or about reality, for that matter. Hitchcock was more concerned about atmosphere and mood. Gradually, the film takes on these qualities of a dream, and dreams are not rooted in reality. Through repeated viewings, we appreciate the many layers of meaning, and we understand more the driving obsession that motivates Scottie. Like many Hitchcock protagonists, he is an emotionally damaged character. Vertigo is a film about passion, guilt and loss. It's also a film that deals with the search for the feminine ideal.  Scholars have commented that Scottie's loss of Madeleine reflects Alfred Hitchcock's own loss of Grace Kelly (his star of three films) and his Pygmalion-like desire to shape another blonde into that ideal.
Psychoanalytic interpretations aside, the film stands as one of the outstanding achievements of cinema art. It is a great work of luminous beauty. Whether it deserves the title of "greatest movie ever made," you'll have to decide for yourself. But a fair assessment can't be made until the film has been seen as it was intended. If you haven't seen Vertigo on the big screen, you haven't seen it. This February, Park Ridge gives you the opportunity.
~MCH