"No one ever leaves a star– that's what makes one a star!" ~ Norma Desmond
WHAT: Sunset Boulevard (1950) Screened in DCP
WHEN: March 16, 2017   2PM & 7:30PM
WHERE: Pickwick Theatre, Park Ridge, IL
WHAT ELSE: Organist Jay Warren performs pre-show music at 7PM
HOW MUCH: $10/$8 (advance) or $6 for 2PM matinee (feature film only)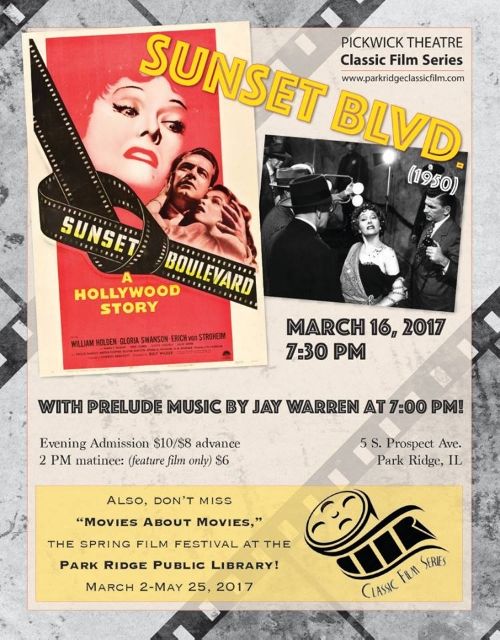 "It shows what Hollywood can do when everybody is putting their best foot forward. The perfect film because of the cast, certainly the direction… also the subject matter, which is particularly fascinating to me because I love the movie world. The music by Franz Waxman I think is absolutely appropriate. The gloomy set in the house is incredible… It's in my top one or two movies of all time." ~Robert Osborne, 52 Must-See Movies and Why They Matter
Billy Wilder's Sunset Boulevard (1950) is one of the most perfect films you will ever see at the Pickwick Theatre. It's one of the great "movies about movies," and it's an unforgettable film noir. This was Wilder's last collaboration with his long-time writing partner, Charles Brackett, and the result contains all the biting wit the director was known for. It's a bleak vision of the Hollywood dream with a story revolving around a has-been movie star. Made by Hollywood insiders, the film shows us the cost of fame.  It's cynical but also ahead of its time as it anticipates the celebrity culture of later generations with its depiction of how scandal feeds the media circus. Sunset Boulevard resonates with audiences who, to this day, still quote lines from its script.
The film's images have become iconic, perhaps none more so than Norma Desmond's final descent down the staircase into the close-up she never quite attains. There would be no Sunset without Gloria Swanson, yet it's William Holden who holds the film together and makes us identify and sympathize with his character. Holden's appearance in the film would revitalize his career and lead to roles in films like Stalag 17 (also directed by Wilder) and The Bridge on the River Kwai. The combination of screenplay and performance heighten Sunset Boulevard to the well-deserved status as one of the essential works of American cinema.
The story follows a down-on-his-luck screenwriter, Joe Gillis (William Holden), who is in need of some quick cash to keep his car from getting repossessed. After a chase from the men looking to collect, Joe takes shelter at an old mansion he finds along Sunset Blvd. It turns out it's the home of silent star Norma Desmond (Gloria Swanson), who lives in the past with her manservant Max (Erich von Stroheim). Desmond is looking for a writer to translate her story of "Salome" to the screen in the hope of making a "return." Seeing an opportunity to make some easy money, Joe takes on the assignment only to become Norma's kept man. While working on her story, he aids a young script reader at the studio (Nancy Olson) who has her own dreams of being a writer.
William Holden and Nancy Olson on the Paramount back lot.

Sunset Boulevard is a classic film noir with many qualities associated with the style.  A dead body floating in a swimming pool, seen by way of an uncanny camera angle, serves as the narrative hook. Then the voiceover of the main character takes us into a flashback. This storytelling technique recalls the hardboiled tradition of detective noirs.  The role of Fate in noir is essential, and here, it leads the protagonist to the doorstep of Norma Desmond. This begs the question, "What if his car hadn't blown a tire at that particular spot in the road?" The dialogue in the voiceover has been described as "street poetry" by Wilder biographer Ed Sikov. Holden's lines provide a wry commentary to the strange events. The noirish plot– the downfall of an opportunist who'll do anything to get ahead– was a recurring theme in several of Billy Wilder's films. Joe's plan to exploit Norma for her money, however, ultimately backfires and he is the one who becomes the victim. Norma Desmond is a femme fatale but not in the traditional sense– not the ice blonde who leads the hero to his doom. What separates her from other femme fatales is that the audience sympathizes with her. Norma is in her own world, one that eventually leads to madness, but she is never one-dimensional or a caricature. We feel for her even in her most tragic moments.
Norma Desmond is one of the great screen characters, and Gloria Swanson's interpretation of her is one of the great performances of all-time. She plays a forgotten star who has seen the parade gone by. Her fans have long since given her the brush, and she lives as a near recluse in her decaying, baroque mansion. Occasionally, she has old-time friends over– the "waxworks," as Joe Gillis calls her bridge players (Anna Q. Nilsson, H. B. Warner, and Buster Keaton). She has money, but no perspective. The year may be 1950, but she is still living as though it were 1927. Surrounded by images of her younger self, Norma turns to her old silent movies for comfort. She is obsessed with making a return with none other than Cecil B. DeMille directing her. Deluded by this fantasy, she becomes distorted into a grotesque figure, yet she still manages to evoke sympathy in us, the movie audience. One of her most heart-breaking lines is when she pleads to Gillis, "Don't hate me, Joe!"
Gloria Swanson as Norma Desmond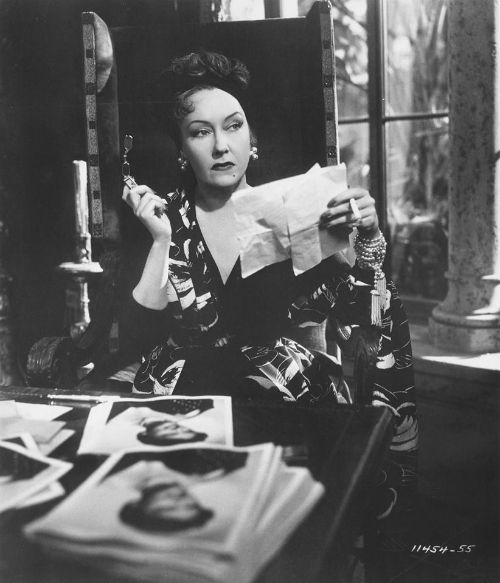 Gloria Swanson was herself one of the immortal silent stars, and like Norma Desmond, she was known for her fashion and style. She worked with the greatest directors including DeMille (who had made her a star) and von Stroheim. (The silent movie that Norma and Joe watch together, Queen Kelly, was actually a 1928 film directed by von Stroheim– before Swanson fired him.) There is certainly some overlap between Swanson and the character she is portraying. (The same can be said of Erich von Stroheim and "Max.") However, that is where the similarities end. Gloria Swanson never became a recluse after retiring in the 1930s, and although she was no longer the great movie star she had once been, she never stopped working and remained active in business, television, and theatre. Swanson understood the character and played her so well it's easy for some viewers to mistakenly blend the real into the fantasy persona. It's a courageous performance by Gloria Swanson.
The sets and props in the film are an extension of the Norma Desmond character. Wilder's mise-en-scene conveys the grandeur of a bygone era. It's a mansion that remains locked away in another time, as though it were still the 1920s just outside her door. It's a demented setting with black comedic touches, such as the dead monkey awaiting its funeral. These bizarre flourishes create an uneasiness. As the viewer, we're not quite sure where we are or what is happening. We're never comfortable, and we know nothing more about the situation than Joe. As the film develops, we see that Norma has surrounded herself with remnants of the past that remind her of her star power. Though she does everything she can to maintain her personal appearance, there is a feeling of decay that hovers over her house and over the film itself. The desire to try and be young again is a losing battle against the ravages of time.
Norma's floor where Valentino once danced…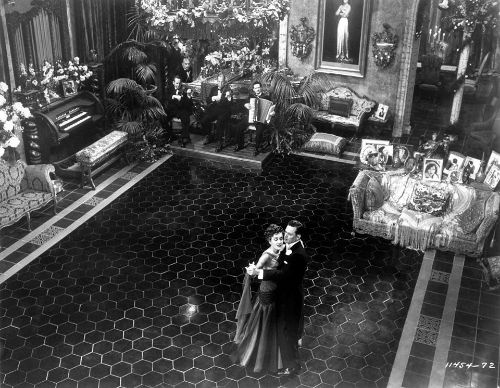 Sunset Boulevard presents us with a cynical view of the movie business. In the Paramount office, we see how story ideas are recycled or warped into something much different than what the writer had intended. We see Joe Gillis struggling to make a living in this industry. His failures and anxieties working within the "New" Hollywood system are coupled with Norma Desmond's fall from grace as a has-been movie star from Old Hollywood. Additionally, one of the darker themes is the opportunism displayed in these characters. They are products of a Hollywood system where everyone is out to get something for themselves. In Sunset Boulevard, we see the consequences of their actions.
Sunset Boulevard is a film I had seen for the first time at the LaSalle Bank revival theatre in 1999. I saw it again theatrically years later when the "Czar of Noir," Eddie Muller, introduced it for his Noir City Chicago screening at the Music Box. What continues to impress are the film's noir qualities, but also how much its story resonates nearly seventy years later. Norma is a relic from the past, but there is truth behind her words. Like other important figures of early Hollywood, particularly director D. W. Griffith, movie people like her had been forgotten by the industry they had helped shape. For those who appreciate the artistry of the silent screen, there is validity to those immortal words of hers: "I am big. It's the pictures that got small!" By 1950, many in Hollywood had forgotten what a true star looked like. It wasn't just a crazy rant from a demented diva. Stars like Swanson, Garbo, Pickford, and others were truly luminous in their heyday– otherworldly. By the early sound era, some of these silent faces had disappeared. Theirs was a style of acting that didn't translate into the new era of talkies. Gloria Swanson captures this in her performance, which seems gigantic and exaggerated– the way a silent performer would act. In Sunset Boulevard, we see two distinct acting styles at play– that of Swanson and the more low-key, naturalistic performance of William Holden. Seeing these two together is one of the joys for an audience that appreciates movie history.
For more about this film and others in our series, refer to Movies About the Movies: Hollywood Reflected (1997) by Christopher Ames.
~MCH
One of the most poignant scenes is Norma's return to her old studio.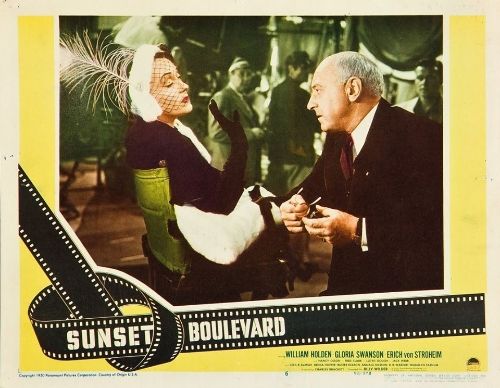 Mad about the boy… Mae West and Montgomery Clift were first considered for the roles!