The following is a transcript of my presentation on Show People, which was screened on March 2 at the Park Ridge Public Library. "Movies About Movies" runs through May 25, 2017.
The title card that appears after the opening credits of Show People could very well describe the setting for our entire series: "To hopeful hundreds there is a golden spot on the map called—Hollywood." It is to Hollywood where General Marmaduke Oldfish Pepper brings his daughter in the hope of making her a star. Peggy Pepper (Marion Davies), a true Georgia peach, has dreams of being a dramatic actress, but those aspirations are dampened when she takes a bottle of seltzer water in the face. Her friend, Billy Boone, a low comic at the studio, has gotten her a job on the slapstick lot. His assistance in helping her career is a plot point that we will see again in films like A Star is Born. And like that cautionary tale of Hollywood, Show People shows us the cost of fame. Success changes Peggy into someone she's not.
Show People, released in 1928, is one of the most enjoyable of all silent movies. People who are not normally drawn to silents are attracted to this one. I saw it for the first time in 1999 at the LaSalle Bank Theatre in Chicago. It was part of a film program called "Movies About Movies: A Look Back in Angles." Besides this film, I also saw What Price Hollywood? and Sunset Boulevard for the very first time. Little did I know then while watching these films that I would be working on the tail-end of the program as the projectionist. The overall theme of that series was clearly the inspiration for this 2017 program at the Park Ridge Public Library.
Show People is a light-hearted look at the movie business of the 1920s. We go behind-the-scenes and see what a movie set was like, how scenes were prepared and cameras set up, and how musicians would play mood music on the set for the actors. To a modern audience removed by nearly ninety years, it's a fascinating historical record of the era. In some ways, the film itself is a nostalgic look back to another era because the comedy that is depicted on-screen seems to recall the Keystone Kops of earlier years. In fact, by 1928, screen comedy had well-evolved past the knockabout slapstick depicted here at the fictitious Comet Studio. Comic actors like Chaplin, Keaton, and Lloyd had by then reached their peak years and had elevated screen comedy to an art form.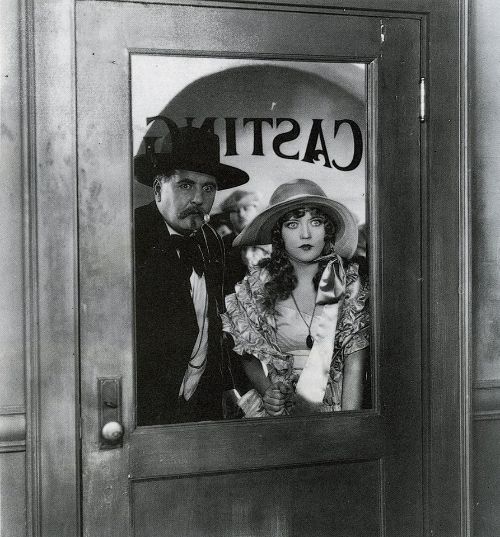 The two things that are most fondly remembered about Show People are its cast, led by Marion Davies, and the cameos of movie stars who appear in the film, including, yes, Marion Davies. To the general movie public of today, her name is all but forgotten. Only the die-hards have seen any of her films. Her obscurity coupled with the great success of Citizen Kane– a film that was inspired by the life of William Randolph Hearst– have done damage to the reputation of Marion Davies. Over the years, some audiences have associated her with the talentless Susan Alexander depicted in Citizen Kane. However, Orson Welles himself made a point of saying this character was not based on Davies herself. In recent years, her reputation as a wonderful screen comedienne has been partially restored. When people finally discover her in these films, particularly her comedies, they can see how much talent and charm she did have. It's evident she inspired other comediennes. One can't help but see some of Marion Davies in the facial expressions of Lucille Ball in "I Love Lucy."
Today, Davies is mostly known for being the mistress of William Randolph Heart, and he took great pains to build up her career. He created his Cosmopolitan Pictures in order to produce star vehicles for her. He made sure she was always in the public eye. Ironically, Hearst's influence may have actually hampered her career. She was most adept at comedy, as seen in this film as well as others like The Patsy and Not So Dumb, all of which were directed by King Vidor. Hearst, however, wanted her in period films because he enjoyed seeing her in fancy costumes. Thus, in real life, it's the reverse of Peggy Pepper of Show People, who wanted to play drama but got started in comedy. Davies wanted to do comedy but was relegated to drama. Had Hearst not been so involved in her career, she might've become one of the undisputed greats of silent comedy, like Mabel Normand. Hearst was so protective of her image that he even controlled how she was depicted in the comedies. There was a famous story about how director Vidor wanted Peggy to be hit with a custard pie in the face. But after conferences with Hearst, who refused the idea, they compromised and decided to have her character shot in the face with water instead.
Despite the limitations imposed upon her, Marion Davies shines in the film. One of the most famous moments in the film comes when Peggy and her father visit the casting office and she proceeds to present the various moods. This was a reference to an earlier generation of actors like Florence Lawrence who would have their various reactions photographed to demonstrate their acting abilities. Show People parodies this while also poking fun of stars like Gloria Swanson. Long before audiences re-discovered her in Sunset Boulevard, Swanson had been a great silent film actress, but she had gotten her start in the Mack Sennett school of comedy. Swanson is directly referenced by name, but is more subtly parodied later in the film when Davies takes on the affectations and pretensions of the elite of Hollywood with her new persona, "Patricia Pepoire." Davies' appearance and mannerisms are a good-natured send-up of Swanson as well as silent actress Mae Murray. Also of note in the film, Davies' character intends on marrying a phony count, and in real-life it was Swanson who married into aristocracy with her third husband.
Portraying her friend from the slapstick lot, the custard pie artist Billy Boone, is William Haines. Haines had been a major MGM star in the mid to late 1920s who often played brash, sometimes obnoxious characters who redeemed themselves in the end. This formula was used in many of his films such as Tell It to the Marines with Lon Chaney. You'll see him in next week's film as he has a substantial cameo in Free and Easy. Haines led an openly gay lifestyle which ultimately led to his termination at MGM. His type of character was replaced by others on the MGM lot like Robert Montgomery. Haines later had a second career as an interior decorator, designing the homes of many of the popular stars he had once worked with. Years later, director Billy Wilder offered William Haines a cameo in Sunset Boulevard as one of Norma Desmond's "waxworks"—the bridge players who visit her– but he turned the role down.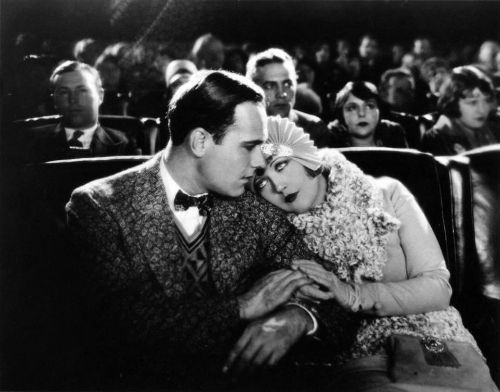 Some of the greatest movie stars at that time appear in cameos in Show People. Most famously, there is Charlie Chaplin who asks for Peggy Pepper's autograph. There is a scene in a studio commissary where the camera pans across the length of a table to show many movie stars like Douglas Fairbanks and William S. Hart. John Gilbert appears here, as he does earlier in the film when he arrives at the studio. Another famous appearance is that of Marion Davies. This is one of the obvious examples of the film's self-awareness. These comedic touches are some of the reasons why the film has become so endearing. It's a movie about movies, but it also reflects our love of the movies, and there is an exuberance at work throughout the film.
Finally, one of the most famous cameos in Show People is that of the director, King Vidor. One of the great film directors of all-time who made such classics as The Big Parade and The Crowd, Vidor appears as himself in the final scene. Without giving away the final shot of the movie, I will say that the last scene is an interesting blend of fantasy and reality, which is what "Movies About Movies" is all about. Life—the "real" life depicted within the context of Show People and the drama associated with its plot—becomes the drama of the movie that Vidor is directing with Peggy and Billy. The characters are no longer "acting" but reacting naturally to the reality of the situation they find themselves in. We, the audience, are watching a movie about the making of a movie where the characters are no longer acting within Vidor's movie-within-a-movie. Movies and life have become inseparable.
Show People is a great comedy, but it's also a profound work about Hollywood that is beautifully executed. It says much about the era in which it was made, but it speaks even more about our love of the movies. There will be more cynical depictions of Tinseltown to come, but for now, here tonight, we will simply enjoy the fun and excitement of that little golden spot on the map called Hollywood.
The film was released with the soundtrack on disc. We are presenting the version with the original Movietone film score and synchronized sound effects.
~MCH