The following is a transcript of my presentation at the Park Ridge Public Library on April 6, 2017. Prior to the film, we screened the Boy Meets Girl trailer, the cartoon "Felix in Hollywood," and a Three Stooges short, "Movie Maniacs." The remaining films in "Movies About Movies" include: Boy Meets Girl (April 13), Sullivan's Travels (April 27), In a Lonely Place (May 11), and The Bad and the Beautiful (May 25).
It Happened in Hollywood (1937) is the story of a silent movie cowboy star, Tim Bart, who makes an unsuccessful transition into talking pictures. His longtime co-star, Gloria Gay, has better success. When he is offered a small role in one of her gangster movies, Tim decides to walk off rather than taint his heroic image. After one of his young fans shows up unexpectedly on his doorstep, Tim tries to find a way to live up to the boy's expectations despite being out of work.
It Happened in Hollywood is an almost unknown B movie that nicely fits into our "Movies About Movies." The film is mostly remembered for being one of the writing credits of Sam Fuller, twelve years before directing his first film. Fuller would become one of the great maverick directors, so it's interesting to find an early film with his name attached. However, there is more to this movie than simply that. Hollywood's transition to talking motion pictures and its effect on the stars would be covered many years later in such classics as Sunset Boulevard and Singin' in the Rain, but with It Happened in Hollywood, we have a depiction of the sound revolution that was much closer in time to the real event. Though the story requires some suspension of disbelief, the actual moviemaking scenes ring true and feel authentic. Of particular resonance is the plight of Tim Bart, a sort of Tom Mix hero now lost in a newfangled world of microphones and dialogue.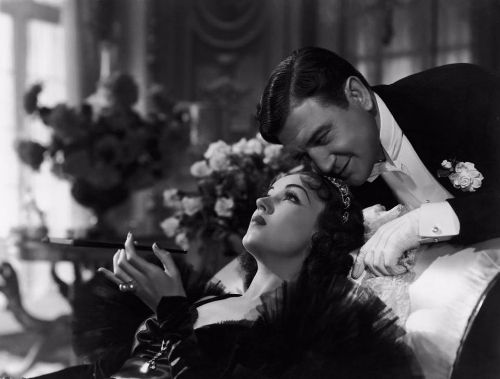 Richard Dix portrays cowboy hero Tim Bart. Dix himself had been a silent star who had appeared in Westerns, but unlike the character in the film, he was able to make the transition into "talkies." He often played the rugged hero in movies and was cast in such silent classics as 1923's The Ten Commandments. One of his best-known films is 1931's Cimarron, which won the Academy Award for Best Picture. Dix, who starred opposite Irene Dunne in this film, was nominated for Best Actor, although it's far from his best performance. He had an easygoing quality that made his acting seem natural and effortless. It's hard not to like Richard Dix. I discovered him on the late late movie when Channel 7 used to run all the old RKO titles like The Lost Squadron and Hell's Highway. Prior to making It Happened in Hollywood, his previous three films were called: Devil's Squadron, The Devil's Playground, and The Devil is Driving. Though tonight's film wasn't called The Devil in Hollywood, the billboard advertising Gloria Gay's first talking movie is called The Devil's Doorway, and there's a later reference to a film called Devil's Paradise!
By the mid-1940s, Dix had returned to Columbia where he starred in some exceptional, low-budget mysteries in the Whistler series. Dix played a different character in each film, and fans of film noir will appreciate this series of programmers. There were a total of eight films, but Dix only appeared in the first seven. His last, The Thirteenth Hour, was his final screen credit. Dix died in 1949 at the age of 56. Outside of film circles, Dix is mostly forgotten, but he left behind some great work that deserves more recognition.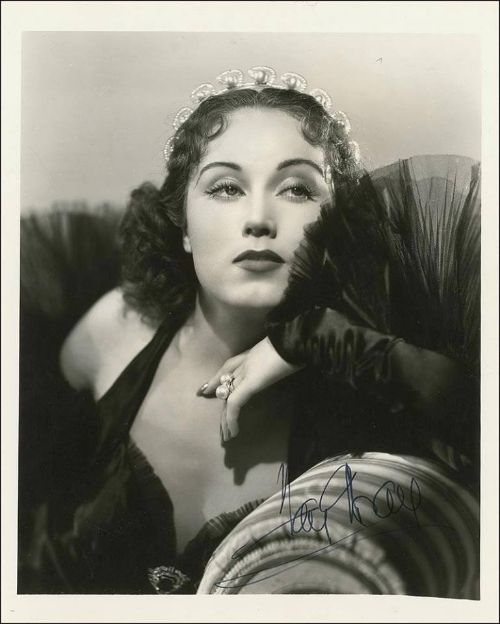 Another favorite of ours is Fay Wray, who plays Gloria Gay. She's one of the main reasons why I chose this B movie instead of another. Like Richard Dix, Fay Wray had gotten her start in silent movies and made a name for herself at Paramount where she was featured in Erich von Stroheim's The Wedding March. She made the rounds at various studios, but it would be at RKO where she'd find immortality when she was cast as Ann Darrow in 1933's King Kong. Wray appeared in horror films and was one of the most famous of scream queens. She retired from acting in 1942 but later returned and made the transition into television. Her last credit was a made-for-television film in 1980. Fay Wray was later offered the role of "Old Rose" in James Cameron's Titanic, which she turned down. She also declined Peter Jackson's offer to have a cameo in his King Kong remake. Wray passed away in 2004 at the age of 96.
Also starring in It Happened in Hollywood are Charlie Chaplin, Greta Garbo, and W.C. Fields—well, not exactly. Though we had the real Chaplin making a surprise appearance in our first film in the series, tonight we get the impostor. Stars of his stature are nowhere to be seen here, but their real-life stand-ins do appear. In the movie's strangest scene, Tim Bart rounds up a bunch of doubles for a Hollywood party at his ranch in order to impress his young fan. There are few moments as bizarre as seeing Chaplin and W. C. Fields dancing to the music of a Mexican orchestra. Some of these pseudo-stars are clearly imitators while others like Victor McLaglen (played by his younger brother Andrew) and Charlie Chaplin are spot-on, and Mary Miner, who was Irene Dunne's actual stand-in, is also convincing. Unlike stunt doubles, stand-ins almost never appeared in films. Nevertheless, the actors who play Eddie Cantor and W.C. Fields did their impersonations in The Great Ziegfeld. The party scene is the highlight of the movie.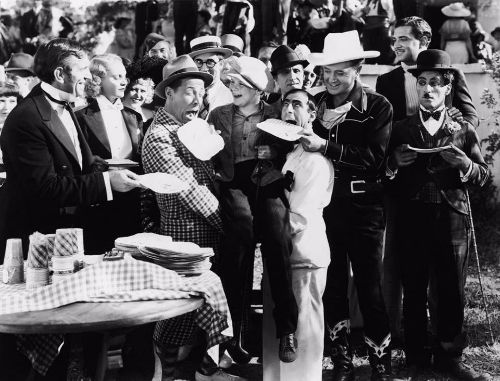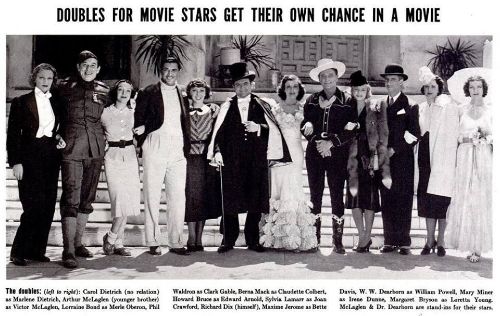 Tonight's film was directed by Illinois native Harry Lachman, whose work we've seen before when we presented 1935's Dante's Inferno. With Joseph Walker as his cameraman, the film is always interesting to look at. Walker would eventually shoot twenty films for Frank Capra, so there was some major talent involved in this project. Though it's a minor movie, the sets feel natural and detailed when they could've been cheap, and many scenes are on location when they could've been hampered by simple interiors. Lachman, a former painter, brings a unique eye to the compositions.
At a running time of 67 minutes, it's economically made with a snappy use of montage and editing. One of the scenes that stands out most is a barroom fight involving Tim Bart and his nemesis from the mortgage company. The editing, with the cross-cuts to a cockatoo, is particularly effective and makes a scene that could've been just another routine fight into something far more interesting visually.
The film also benefits from a delightful opening in which an audience of kids are reacting to the Western movie they are watching. We hear their cheers and hisses and boos along with the piano accompaniment. It's a scene that would be captured again in 1941's One Foot in Heaven where Reverend Spence, the Fredric March character, takes his boy to see a Western in order to point out the evils of motion pictures.
Sam Fuller worked on the screenplay with Ethel Hill and Harvey Fergusson, but it's hard to say what his specific contributions were in terms of story construction. The plot does take an unusual turn into film noir territory—but only briefly. I actually have some issues about the climax, which is disturbing when you think about it. We'll discuss that ending after we see it. At first, you don't know whether what is happening is real, or is it the make-believe of the movie Tim Bart is making. The climax is out of left field, but it's not the only drawback. Some of the mawkish, sentimental scenes with close-ups of young Billy in tears bring the momentum of the narrative to a dead-stop.
Nonetheless, It Happened in Hollywood is an enjoyable film with two movie stars you can't help but like, and the final shot captures the overall charm of the picture. Besides presenting the essence of what Hollywood was going through only a few years before during the sound revolution, the film has something to say about hero worship and living up to the image that is projected on the screen. Today, there is little identification with movie stars. Not many kids grow up wanting to be like Brad Pitt. Actors could be playing cops in one movie and murderers in the next. But back then, stars were often associated with particular roles. From Tom Mix to John Wayne, certain values were intrinsic in their movies. With Tim Bart, we have a hero drawing the line at becoming a cop-killing gangster because it would destroy his image in the eyes of all the kids who look up to him. It's one of the more poignant aspects of the film, and Dix conveys this with sincerity and conviction.