WHAT: Singin' in the Rain (1952) 65th anniversary screening (on DCP)
WHEN: April 20, 2017   2 PM & 7:30 PM
WHERE: Pickwick Theatre, Park Ridge, IL
WHAT ELSE: Jay Warren performs pre-show music on the Mighty Wurlitzer at 7:00 PM
Raffle for a "Singin' in the Rain" prize basket! ($1/ticket, 5 for $4)
HOW MUCH: Admission is $10/$8 advance or $6 for 2 PM matinee (feature film only)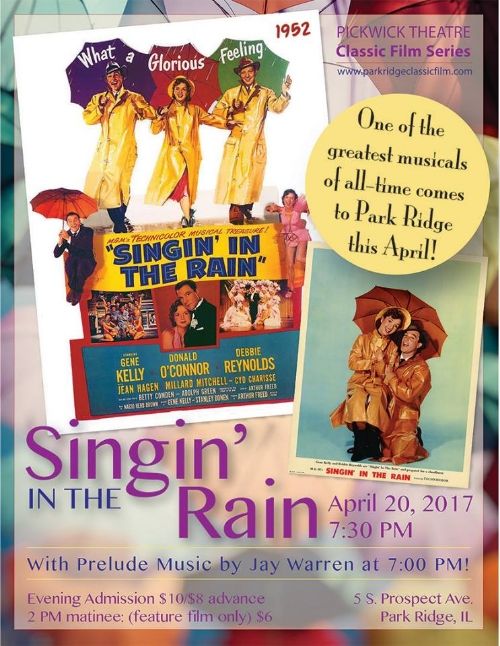 Singin' in the Rain is pure joy. Its good feeling is contagious, and as a work of cinema, it's an absolute delight. These words are being written by someone who was never a fan of 1950s musicals. I grew up with Fred Astaire and Ginger Rogers and never had an interest in the MGM musicals until I saw Singin' in the Rain for the first time. It wasn't just the songs and how they were staged, but it was the story itself that drew me in. All these years later, the film still resonates for me as well as for thousands of moviegoers all over the world. It's on the AFI list of greatest movies (#5) and is ranked the #1 musical of all time. Having seen it multiple times now, it's easy to understand why its had such a lasting influence.
When I first decided to show this film at the Pickwick Theatre it was because of our "Movies About Movies" film festival in Park Ridge. However, with the recent passing of the film's star, Debbie Reynolds, we've turned this screening into a tribute to her. Additionally, with the popularity of films like La La Land, there is more of a demand to see musicals– but not just any musicals. Audiences are looking back now, reminded of the old songs and dance numbers that are faint echoes in the newer film. To the jaded, younger audiences who have never seen a movie older than the year 2000, Singin' in the Rain was the La La Land of its era. The difference being that its stars could actually sing and dance.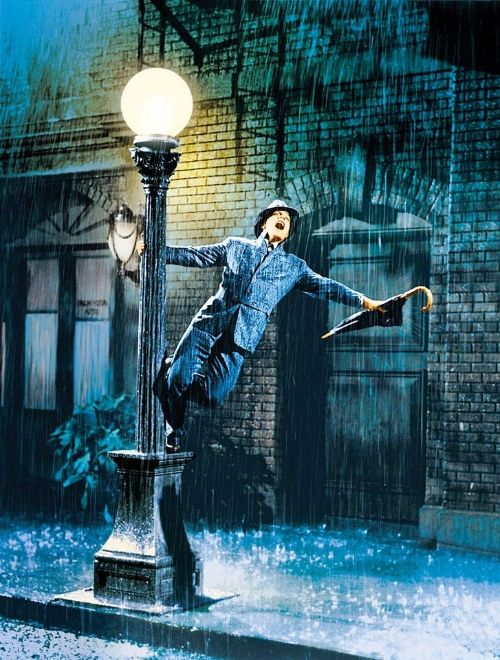 Directed and choreographed by Stanley Donen and Gene Kelly, Singin' in the Rain is a dead-on send-up of Hollywood on the cusp of sound. These were the days when all the movie stars were on edge. Their fate hung in the balance. Would they be able to survive in the era of talkies? The story opens at a big premiere with silent star Don Lockwood (Gene Kelly) arriving with his leading lady, Lina Lamont (Jean Hagen). They are swarmed by fans. It seems that Don is sitting on top of the world, but not everyone is carried away by his charm. Later, while running from a crowd of women, Don drops in on Kathy Selden (Debbie Reynolds), a chorus girl with a low opinion of the movies (or so she claims). When his first talking movie flops at the preview, Don begins to doubt his own abilities. He can't act– and his ditzy leading lady can't talk. Eventually, Don reunites with Kathy again and together– with Don's piano player, Cosmo Brown (Donald O'Connor)– they concoct a scheme to save the movie. The Dueling Cavalier will become The Dancing Cavalier! Don will reinvent himself as a musical star, and Kathy will be Lina's voice behind-the-scenes.
Singin' in the Rain is one of many classic musicals that were made by the famous Arthur Freed unit at MGM. Freed, a former lyricist, had been working at the studio since 1939 when he served as associate producer on The Wizard of Oz. Throughout the 1940s and 1950s, he produced some of the greatest musicals of all time. During his time there he nurtured the talent of a great many stars. His own song catalogue served as the inspiration for Singin' in the Rain. Screenwriters Betty Comden and Adolph Green wrote a story around the songs which Freed had written years before along with Nacio Herb Brown, who had provided the music. As these songs were evocative of a particular time in America, the writers made it a period film set in the late 1920s when Hollywood was undergoing a sound revolution.
The memorable score includes such songs as Donald O'Connor's spectacular solo number "Make 'Em Laugh," (one of two songs written for the film), "You Were Meant For Me"– performed on a soundstage by Kelly– "Good Morning," which is sung by the three stars, and the title song, "Singin' in the Rain," which has gone on to become one of the most recognizable musical vignettes in movie history. The story goes that Gene Kelly had a temperature of 103 degrees when he performed it. Kelly was very demanding of himself and of others, and it shows with the perfect synchronization of the performers. This is best represented in the "Good Morning" number which takes Kelly, O'Connor, and Reynolds singing and dancing throughout several rooms in a house and up and down a staircase.  Reynolds, who was 19 at the time, had been a gymnast– not a dancer– so she had to work long hours in order to keep up with her two male co-stars. One would never know she was inexperienced watching the film. It is truly one of the great performances by a non-dancer. She is perfect in the film.
"It was eleven at night, and Gene was shouting, 'Dance harder! More energy!' Finally, Stanley gave a signal that it looked all right, and I got up off the floor, only to faint dead away… They called my family doctor. He looked at my feet and saw the blood vessels had burst. 'What are you doing to this girl?' he asked. And Gene said, 'We're making a movie.'" ~ Debbie Reynolds
The biggest production number includes "Broadway Melody"– a song originally from the 1929 film of the same name– and "Broadway Rhythm" from Broadway Melody of 1936. The sequence becomes its own story, a dream-like fantasy that incorporates many styles of dance, including ballet. In this extravaganza,  Kelly searches for a gangster's moll, the seductive woman in green played by Cyd Charisse. (Charisse would have another memorable role the following year starring with Fred Astaire in The Band Wagon.)
There is an energy to the film, as though what the characters are feeling is transferable to the audience. It's a wonderfully funny film with a self-awareness– a winking at the audience. A great example of this are the visual gags during the flashback in which Don relates the story of how he and Cosmo got started in show business. What we see as the viewing audience directly contradicts what Don is telling his fans over the radio broadcast. Where other movies might've turned the premise into tragedy– Don Lockwood's laughable dialogue clearly recalls the failure and decline of silent star John Gilbert– Kelly and Donen make it a comedy and a spoof of Hollywood lore. The idea becomes fun, and they roll with it. Characters, like the stars at the premiere, become exaggerations of real silent stars like Nita Naldi and Lilyan Tashman. It's a send-up of Hollywood but also a celebration of it.
For many, Singin' in the Rain is the pinnacle of the studio musical, certainly the apex of the MGM musical. When it was released, it was a modest success, somewhat overshadowed by the critical success of Kelly's An American in Paris. But over the years, Singin' in the Rain's popularity has surpassed most other musicals. To quote a former cinema history teacher of mine, Scott Marks: "Everything clicks: Harold Rosson's sparkling cinematography, Betty Comden and Adolph Green's sensational script, the memorable songbook by Freed and Nacio Herb Brown and, of course, the chemistry of Kelly, Reynolds and Donald O'Connor. In Don Lockwood, Gene Kelly found his perfect on-screen counterpart and his grin was never more smugly fixed. Not until Kevin Brownlow's majestic 'Hollywood' had the transition to sound been given such an accurate depiction."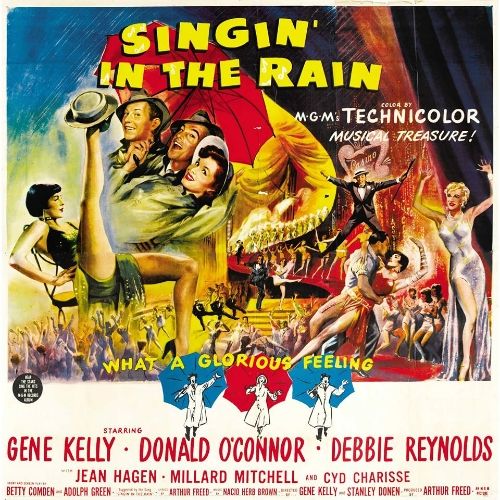 Musicals haven't died. They've always come back in some form or another. This was evident with the popularity of La La Land, which (for two minutes) was the Best Picture of the year. Over the years there have been attention-getting musicals like Chicago and Moulin Rouge, and younger generations have been drawn to things like High School Musical. It's a genre that can reach young people because dance affects the spirit. There is a direct connection that the musical can make which inspires. But with all these incarnations over the years, nothing equals the magic of Singin' in the Rain. Each generation may very well have their own Singin' in the Rain— a musical that speaks to that particular era– but none compare to the original.
April 20 will be a rare opportunity to see this marvelous film in all its vibrant, Technicolor glory up on the big screen. This will be a digital restoration of the film, which should look pretty spectacular. We are expecting a sell-out crowd, so get your advance tickets now! Click Here!
~MCH