Matthew C. Hoffman studied film at Columbia College Chicago under Scott Marks, a film historian and current writer at the San Diego Reader. Matthew successfully managed Chicago's LaSalle Bank revival house from 1999-2003 and worked to ensure its tradition of showing classic films to packed-house audiences. More recently, he contributed to the old-time radio magazine Nostalgia Digest as well as to the Chicago Art Deco Society Magazine (Spring 2014). Matthew is currently a graduate student at Columbia College. He is pursuing a Master's Degree in Creative Writing while working full-time at the Park Ridge Public Library. His previous programs for the Library include Film Noir, Forbidden Cinema, Legends of Laughter, Screen Deco, Crossed Swords, The Rediscovered, Cinema of Transcendence, and Legends of Laughter 2: The Comedy Teams.
Matthew's Pickwick Theatre Classic Film Series, which began in September of 2013, was featured on WGN Morning News. And in 2014, he organized the Tyrone Power Centennial at the Pickwick Theatre– the first of several nationwide tributes that were planned.
Matthew is also the 2015 recipient of Park Ridge's Community Star Award.
For more about the man behind the curtain, Click Here!
To listen to Matthew's appearance on WBEZ radio from May, 2010, Click Here!
To listen to Matthew's first interview with Nick Digilio on WGN Radio, Click Here! On April 17, 2014, Matthew returned as a guest on the Nick Digilio Show: Click Here! On September 12, 2014, Matthew made his third visit to WGN to discuss Season 2's screening of Goldfinger: Click Here! On October 24, 2014, Matthew talked about the 75th anniversary screening of Son of Frankenstein: Click Here!  Gone With the Wind's 75th anniversary was the subject of the December 3, 2014 broadcast: Click Here!  Casablanca and the 2015 Library film series was discussed on January 30, 2015: Click Here!  A Hard Day's Night and Ben-Hur on March 16, 2015: Click Here! The Colleen Moore Event from May 6, 2015: Click Here! Season 3: North By Northwest from September 15, 2015: Click Here!; Abbott & Costello Meet Frankenstein from October 28, 2015: Click Here! The Frank Sinatra Centennial/On the Town from December 8, 2015: Click Here! Citizen Kane 75th anniversary from February 9, 2016: Click Here! Legends of Laughter 2/A Night at the Opera from March 9, 2016: Click Here! Thunderball 50th anniversary from April 20, 2016: Click Here! Captain Blood from May 13, 2016: Click Here! Season 4 Opening Night: The Searchers 60th anniversary screening from September 13, 2016: Click Here! Creature From the Black Lagoon from October 26, 2016: Click Here! Spartacus and the Kirk Douglas Centennial from December 7, 2016: Click Here! Once Upon a Time in the West from January 11, 2017: Click Here!
*               *               *               *               *               *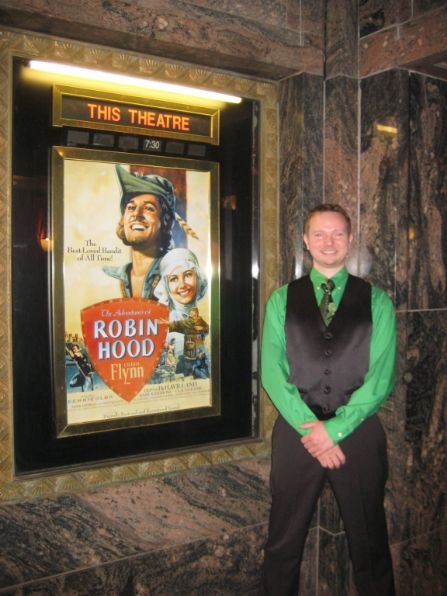 With Pickwick Theatre Classic Film Series hostess Allison.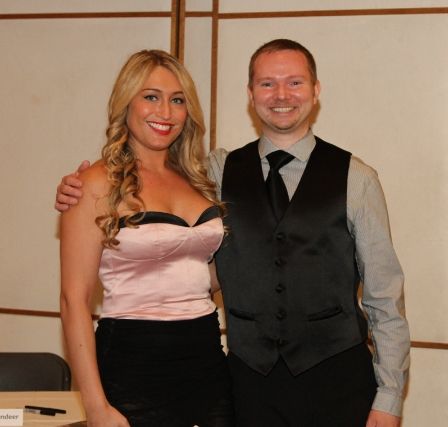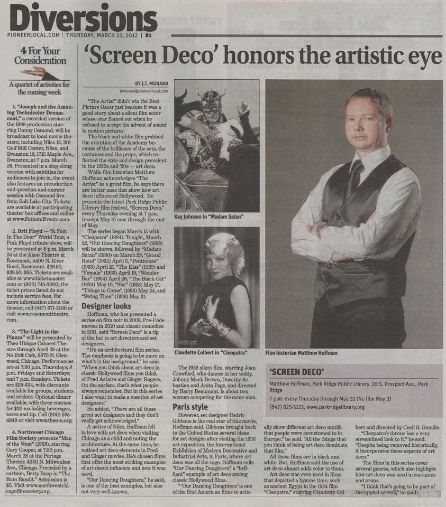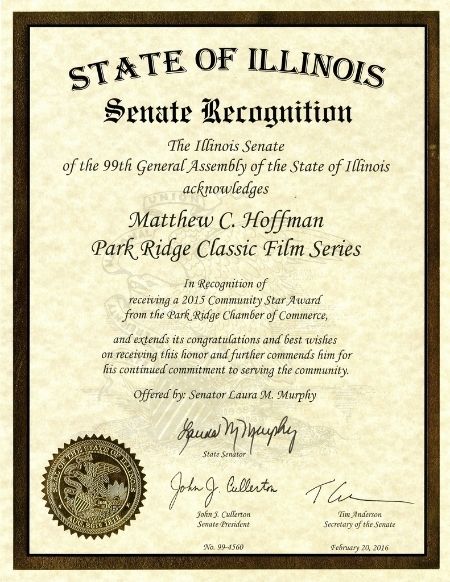 *            *            *            *            *            *            *            *
During his four-year tenure at the LaSalle Bank Theatre, Matthew raised the average attendance from the low 60s to over a 100 on a consistent basis. In his final year, he brought 35mm projection to the revival house. Click Here for an article by J.R. Jones of the Chicago Reader.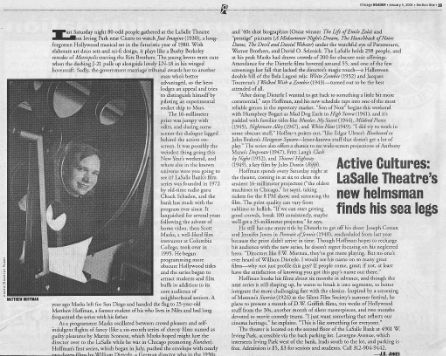 NOTE: The following is the complete listing of all the films Matthew programmed as director of the former LaSalle Bank Theatre revival house (4901 W. Irving Park Rd. Chicago). We have not included the "Hollywood Musical Series," which he projected but did not book. The number after the film is the attendance, NOT the year of release. The final series was a transition period. Matthew had two successors record the paid attendance of the patrons; those dates are left blank. Only a few shows afterward were recorded for his own files. "When I originally got the job in 1999, the theatre averaged about 50-60 patrons on a good night, mostly the seniors who were regulars. That was about the average for my first series: 'The Classic Hollywood Director Series: William Dieterle.' However, the turning point for the theatre was the 'Son of Noir' program that followed. After that, attendance remained around the 100+ mark until I left at the end of 2003."
7/8/00: The Last Flight (49); 7/15: Her Majesty, Love (60); 7/22: Man Wanted (56); 7/29: Grand Slam (51); 8/5: Female (54); 8/12: Fog Over Frisco (85); 8/19: Madame DuBarry (66); 8/26: The Firebird (56); 9/2: A Midsummer Night's Dream (85); 9/9: Doctor Socrates (50); 9/16: The Story of Louis Pasteur (55); 9/23: The White Angel (41); 9/30: Satan Met A Lady (47); 10/7: Another Dawn (42); 10/14: The Life of Emile Zola (41); 10/21: Juarez (80); 10/28: White Zombie & I Walked With a Zombie (156); 11/4: The Hunchback of Notre Dame (68); 11/11: Since You Went Away (61); 11/18: Dr. Ehrlich's Magic Bullet (60); 11/25: A Dispatch From Reuters (40); 12/2: All That Money Can Buy (95); 12/9: Love Letters (58); 12/16: Elephant Walk (25); 12/23: The Unholy Three (51); 12/30: Just Imagine (83). 1/6/01: High Sierra (160); 1/13: This Gun For Hire (120); 1/20: Journey Into Fear (101); 1/27: Bluebeard (125); 2/3: Phantom Lady (116); 2/10: Portrait of Jennie (91); 2/17: Murder, My Sweet (144); 2/24: The Spiral Staircase (100); 3/3: Hangover Square (120); 3/10: Mildred Pierce (174); 3/17: Scarlet Street (140); 3/24: The House On 92nd Street (117); 3/31: The Big Clock (138); 4/7: Nightmare Alley (165); 4/14: Desperate (107); 4/21: Desert Fury (113); 4/28: Call Northside 777 (115); 5/5: Road House (121); 5/12: The Fallen Idol (95); 5/19: The Black Book (105); 5/26: White Heat (150); 6/2: The Set-Up (110); 6/9: The Big Steal (106); 6/16: Thieves' Highway (160); 6/23: The Narrow Margin (128); 6/30: Clash By Night (180); 7/7: Intolerance (130); 7/14: The Avenging Conscience (60); 7/21: Way Down East (84); 7/28: Abraham Lincoln (89): 8/4 Safe in Hell (150); 8/11: Wonder Bar & High Pressure (145); 8/18: Zoo in Budapest (115); 8/25: Murder At The Vanities (153); 9/1: Death Takes a Holiday (131); 9/8: The Mystery of Edwin Drood (99); 9/15: Dante's Inferno (125); 9/22: Clive of India (90); 9/29: Steamboat Round the Bend (93); 10/6: The Great Garrick (169); 10/13: If I Were King (68); 10/20: On Borrowed Time (79); 10/27: It Came From Outer Space (200); 11/3: Grass & Nanook of the North (70); 11/10: Tell It To The Marines (135); 11/17: He Who Gets Slapped (112); 11/24: The King of Kings (60); 12/1: Horse Feathers (168); 12/8: Diplomaniacs & Duck Soup (131); 12/15: Hold That Ghost (75); 12/22: Babes in Toyland (82); 12/29: Stars In My Crown (149). 1/5/02: She (130); 1/12: The Four Feathers (90); 1/19 Five Star Final (97); 1/26: The Big Broadcast (103); 2/2: Kongo (115); 2/9: Trouble in Paradise (285); 2/16: The Mask of Fu Manchu (203); 2/23: Air Mail (83); 3/2: The Narrow Corner (66); 3/9: The Kiss Before the Mirror (125); 3/16: Gold Diggers of 1933 (201); 3/23: Heat Lightning (116), 3/30: The President Vanishes (135); 4/6 The Crusades (138); 4/13: The Passionate Plumber & The Man on the Flying Trapeze (160); 4/20: Tarzan Escapes (100); 4/27: The Invisible Ray (105); 5/4: Night Must Fall (101); 5/11: The Prisoner of Zenda (145); 5/18: Angels With Dirty Faces (150); 5/25: Gunga Din (110); 6/1: Strange Cargo (108); 6/8: Action in the North Atlantic (94); 6/15: Palm Beach Story (165); 6/22: Shane (127); 6/29: Goldfinger (107); 7/6: Operation Crossbow (92); 7/13: Alibi Ike & Sons of the Desert (116); 7/20: Where East Is East (94); 7/27: The Maltese Falcon 1931 (120); 8/3: The Maltese Falcon (110); 8/10: Dr. Jekyll & Mr. Hyde (153); 8/17: The Beast of the City (140); 8/24: The Most Dangerous Game (109); 8/31: Pilgrimage (93); 9/7: Penthouse (245); 9/14: Les Miserables (111); 9/21: Mad Love (135); 9/28: Swing Time (141); 10/5: Lost Horizon (227); 10/12: The Green Light (113); 10/19: Marie Antoinette (118); 10/26: The Walking Dead & Son of Frankenstein (166); 11/2: Brother Orchid & Dillinger (152); 11/9: The Cross of Lorraine (110); 11/16: Somewhere in the Night (112); 11/23 The Fountainhead (121); 11/30 The Bullfighter and the Lady (93); 12/7: The Man From Laramie (108); 12/14: The Horse Soldiers (81); 12/21 A Tale of Two Cities (119); 12/28: Ride the High Country (126). 1/4/03: Remember Last Night? (165); 1/11: Winners of the Wilderness (58); 1/18: Star Witness & College Coach (99); 1/25: It's Tough To Be Famous (103); 2/1: Freaks & West of Zanzibar (122); 2/8: The Affairs of Cellini (119); 2/15: Mandalay (120); 2/22: The Scoundrel (122); 3/1: The Prisoner of Shark Island (95); 3/8: Professor Beware & The Old-Fashioned Way (130); 3/15: Cluny Brown (128); 3/22: The Woman in White (131); 3/29: Colorado Territory (107); 4/5: The Beginning Or the End (print didn't arrive, screened The Sign of the Cross (80); 4/12: The Day the Earth Stood Still (180); 4/19: Above And Beyond; 4/26: Kiss Me Deadly; 5/3: The Magnetic Monster & THEM!; 5/10: On the Beach; 5/17: The Mouse That Roared; 5/24: Dr. Strangelove; 5/31: Fail-Safe; 6/7: The Bedford Incident; 6/14: Planet of the Apes; 6/21: Colossus: The Forbin Project; 6/28: The Road Warrior; 7/5: The Night of the Hunter (197); 7/12 The Sorrows of Satan (108); 7/19: Chang & The Son of Kong (95); 7/26: Applause; 8/2: Moby Dick; 8/9: The Millionaire & The Finger Points (93); 8/16: The Miracle Woman (119); 8/23: Flesh: 8/30: Murders in the Zoo; 9/6: International House; 9/13: Cleopatra; 9/20: The Big Broadcast of 1937; 9/27: Midnight; 10/4: The Light That Failed; 10/11: Buck Benny Rides Again (140+); 10/18: One Foot In Heaven (111); 10/25: The Black Cat & Frankenstein Meets the Wolf Man (222); 11/1: Who Done It?; 11/8: Sahara; 11/15: Random Harvest; 11/22: Road to Morocco; 11/29: Champagne For Caesar; 12/6: Wichita; 12/13: The Cheaters; 12/20: It's A Wonderful Life; 12/27: Shall We Dance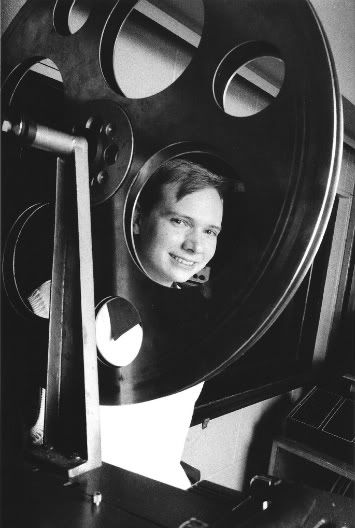 To view PDFs of Matthew's theatre programs (as well as others during the history of the Bank of America/LaSalle/Talman/Northwest Federal Cinema), visit the Northwest Chicago Film Society's website: http://www.northwestchicagofilmsociety.org/calendar/archives/bank/