Jay Warren of the Silent Film Society of Chicago will be performing a live organ accompaniment when we screen Laurel & Hardy's "Big Business" on December 10, 2013! Also, the Chicago Bacon Grabbers will be in the lobby. They are the local tent of the "Sons of the Desert"– the Laurel & Hardy Appreciation Society. Thank you to Marcia Opal for her work with the Bacon Grabbers!
*            *            *            *            *            *            *
Thank you to Columbia College Chicago for mentioning Matthew Hoffman and the Park Ridge Classic Film Series in their November alumni newsletter! Click Here!
*            *            *            *            *            *            *
B-movie filmmaker David "The Rock" Nelson mentions Pickwick screening in hilarious plug on WGN Morning News! Click Here!
*            *            *            *            *            *            *
We were featured on WGN-TV's Morning News on October 8, 2013. Dean Richards interviewed Matthew Hoffman on the new classic film series at the Pickwick Theatre. WGN's appearance at the theatre was part of their "Around Town" segment.
*            *            *            *            *            *            * 
We would like to offer our sincere thanks to WGN Radio for their in-depth interview with Matthew Hoffman via the Nick Digilio program. Thanks also to WBBM for mentioning the film program. And finally, we are grateful for the support from Pioneer Press as well as from the Chicago Tribune.
To read Bruce Ingram's full article in the Park Ridge Herald-Advocate, Click Here!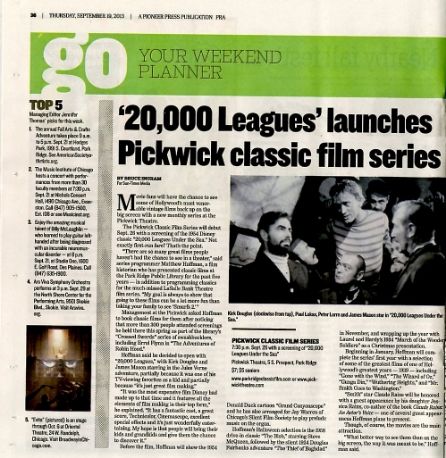 One of the more extensive interviews with Matthew Hoffman appeared in his hometown paper: The Niles Bugle. Click Here!
*            *            *            *            *            *            *
In 2014 we will have several special guests both at the Pickwick Theatre and at the Park Ridge Public Library. Our most recent confirmation is Jessica Rains, daughter of legendary actor Claude Rains. We will be honored to have Jessica with us next spring for a film screening and a book-signing!
*               *               *               *               *               *               *
New show added to the Park Ridge Public Library Classic Film Series!
On October 24 we will be screening the 1950s sci-fi classic Them! (1954) at 7 PM! All Library screenings are free. Seating is limited to 90. Doors to the first floor meeting room open at 6:30 PM.
Please register for this program to guarantee a seat. Call 847-825-3123 and ask for Reader Services.
And be sure to visit the "Cinema Terrors" monster exhibit on the 2nd floor (in the display case) during the month of October! All models are from the collection of Paul Pandocchi. Paul is an award-winning, professional model kit builder. He is a painter, sculptor, and horror/sci-fi enthusiast.
If you like what's on display, visit Paul's store: LOST IN TOYS at 3838 N. Harlem Ave. (773-875-7582).
Them! will be our last classic film screening at the Library before we return in the spring!