WHAT: Gone With the Wind (1939): 75th anniversary film screening.
WHEN: December 4, 2014    7:00 PM (Doors will open at 6:00 PM)
WHERE: Pickwick Theatre, Park Ridge, IL
WHO: Organist Jay Warren will perform prelude music between 6:30-7:00 PM.
"Those Were the Days" (90.9 FM) radio host Steve Darnall will be a special guest in the lobby before the show.
HOW MUCH: Admission is $7/$5 for seniors 60+
WHAT ELSE: We will raffle off a giant GWTW gift basket including the 75th anniversary blu-ray. (Raffle tickets are $1 each/5 for $4.)
We will also make an announcement about the second half of Season 2. We will resume in March 2015.
NOTE: There will be a 10+ minute intermission during the feature.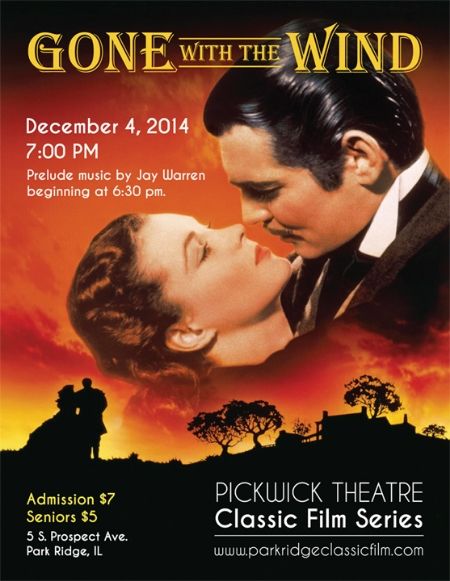 Seventy-five years after its release, Gone With the Wind remains the most popular movie ever made. Although three directors worked on the production, GWTW was largely the result of one man's vision: producer David O. Selznick. Based on the Pulitzer Prize-winning novel by Margaret Mitchell, this is Hollywood studio moviemaking at its zenith. Set against the epic backdrop of the American Civil War, the story follows the passions of Scarlett O'Hara (Vivien Leigh), a free-spirited Southern beauty captivated by two men: Ashley Wilkes (Leslie Howard), the gentleman she can't have– and Rhett Butler (Clark Gable), the roguish admirer whom she'll eventually marry. When her Southern way of life begins to crumble, Scarlett fights to save her beloved Tara and forge her own destiny. A winner of eight Academy Awards, including Best Picture– as well as two honorary Oscars– GWTW is filled with images, in all their Technicolor glory, that have become indelible in popular culture. The supporting cast includes Olivia de Havilland as Melanie and Hattie McDaniel (Best Supporting Actress) as the housemaid Mammy. The instantly recognizable film score was composed by Max Steiner.
Though Gone With the Wind had a recent national release in late September, the Pickwick Theatre showing is the only one in the Chicago area that will honor the actual premiere (December 1939). Those who have patiently awaited our long-delayed screening will be rewarded when we present the film in a historic movie palace. Films like GWTW need to be seen in a theatre like the Pickwick– not in a little cineplex or, even worse, on a TV or tablet. Only the big screen can best capture scenes depicting the pageantry of the Old South– or the burning of Atlanta. If this is your first time seeing GWTW, then this is the only way to see it.
A great many view GWTW as the greatest motion picture ever made. Others see it as a 3 1/2 hour soap opera. But regardless of which side of the fence you're on, it is an undeniable must-see film. Whether it's Vivien Leigh's Academy Award-winning peformance or William Cameron Menzies' unifying production design, there is something in it to be admired; the film is composed of grand elements. For these reasons, we proudly present this celebration of Gone With the Wind. We invite you to return with us to Tara for the conclusion of our "Films of 1939″ series.