"After I had seen The Searchers a few times, it was completely fixed in my mind. The film was such a seminal and primal experience that I was absolutely convinced I had dreamed it, which was just right because that's in keeping with the movie. It almost should be dreamed." ~ John Milius, A Turning of the Earth: John Ford, John Wayne and The Searchers (1998)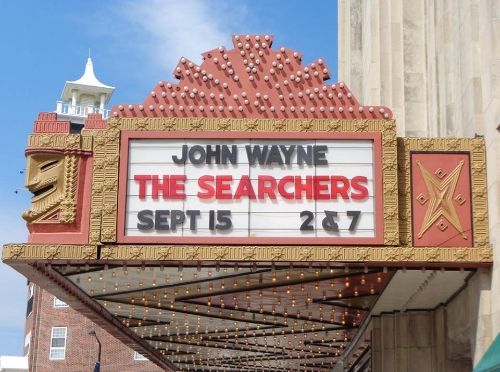 Instead of writing an essay on the actual making of The Searchers, I've organized a more personal listing of the reasons why patrons should come out and see the film for its 60th anniversary. For those fans who want to know more about the production of this great film, I highly recommend reading Glenn Frankel's The Searchers: The Making of an American Legend or the excellent analysis in the BFI Film Classic Series: The Searchers by Edward Buscombe. Also, I'd suggest listening to the always insightful Peter Bogdanovich and his audio commentary which can be found on the dvd/blu-ray. As the series host, I'm excited about this screening because it's the first John Ford/John Wayne film I've presented since I played a 16mm print of The Horse Soldiers at the old LaSalle Bank Theatre in Chicago. I couldn't think of a better way to open our fourth season. The following points are written specifically for our screening at the Pickwick Theatre.
1) Lana Wood. We are fortunate to have with us someone who appeared in one of the greatest movies ever. Nothing is of more significant value to our film history series than to actually have a witness to–  and a first-hand account of– the making of The Searchers. In the film, Lana Wood played young Debbie Edwards, a character who is portrayed at a later point by her sister, Natalie Wood. Lana has worked with and known many stars in Hollywood; this goes well beyond the scope of the films she herself has appeared in. For our show, she will be sharing many stories with us onstage including her experience working with "The Duke." This will be a once-in-a-lifetime event for the community, and we are extremely honored that Lana will be visiting us in Park Ridge. She will be meeting fans and signing autographs before and after the evening screening.
2) Cinematography. Cameraman Winton C. Hoch photographed one of John Ford's most stunning productions and helped give it a mythic scope. The film is a visual tour de force with Ford's framing and use of natural settings. Hoch's camera captures the grandeur of Ford's Monument Valley, a sight even more spectacular in the VistaVision process of the 1950s. This widescreen format allowed for a greater depth of field with an exceptional clarity in the image. Few directors could match Ford's sense of composition. By contrast, refer to a modern-day Western like The Hateful Eight, which used an outdoor, widescreen format to shoot what is essentially an indoor film. The 70mm presentation and showmanship may have been impressive, but next to John Ford, the content of the Quentin Tarantino film is more like epic horse manure. For the millenials who have grown up admiring the hip, fan boy aesthetics of certain contemporary filmmakers, they need to go back and study the true masters of the form like John Ford.
3) Big-Screen experience. Though nothing will ever compare to seeing this film in the 1950s in 35mm VistaVision, it is our understanding, based on other screenings around the country, that this digital restoration of The Searchers is one of the best you will ever see in the "DCP" format. We will take full advantage of the Pickwick's main theatre with this presentation. This is not a film meant to be experienced on a computer or iPad. My first experience was seeing it on television as a kid, and though the story fascinated me, there was no way I could fully appreciate its pictorial majesty on television. The Searchers is rarely screened theatrically, and this will be a wonderful opportunity for people of all ages to see it the only way it should be seen.
4) John Wayne. Like the red sandstone towers depicted in the film, John Wayne himself was a monument, and only an epic canvas like VistaVision could adequately capture this Hollywood giant. The Duke gives his finest performance as Ethan Edwards, a role that shows a wide range of emotions. Hate, compassion, loneliness– it's all there. Edwards is a complex character– not a caricature or political archetype. There is a truth and honesty in his characterization. You see it in his eyes. When we were promoting this screening at a recent car show in Park Ridge, only two people (out of 75) said they would skip the film because of John Wayne, or "Wayne's politics." Though some see Wayne as a fading symbol of heroism and out-of-fashion masculinity, there will always be a legion of John Wayne fans out there, myself included, no matter how much society changes. We hope they will saddle up and make the journey to Park Ridge.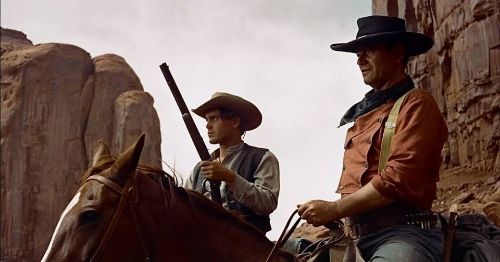 5) Jay Warren prelude music. There are fans who come to our shows just to hear Jay Warren perform pre-show music, and with good reason. Jay is one of the outstanding musical talents in the Chicagoland area. He is best-known for his musical accompaniment to silent film.  Jay returns as our guest organist to perform on the theatre's original Mighty Wurlitzer organ. He will be playing themes from The Searchers as well as musical cues related to Lana Wood. (You want to hear what Diamonds Are Forever sounds like on an organ? Come on out!)
6) AFI 100. The inclusion of The Searchers is one instance where the American Film Institute got things right. The film's reputation as a classic has grown over the decades. Besides its high ranking on the AFI's list of the 100 Greatest Movies of All-Time (#12), The Searchers is also ranked #1 in the Western genre. The film has had a tremendous influence on such directors as Martin Scorsese (who named it his favorite). In other words, this is one film your need to see (in a theatre) in your lifetime. Listen to Scorsese. He won't steer you wrong!
7) Scott Eyman contribution. John Ford/John Wayne biographer Scott Eyman was generous enough to take the time to send us a few written words of introduction. This will be included in our programs for the evening. NOTE: These programs will only be available for the evening screening– not for the 2 PM matinee.
8) The Story. Adapted from the novel by Alan LeMay and inspired by true events, the screenplay by Frank S. Nugent blended history and fiction into one of the most powerful Westerns of the era. The genre had evolved considerably over the years. Westerns, which had been a respected genre in the early years, had given way to the Poverty Row B-movies in the 1930s– "oaters," as they were called. John Wayne knew this all too well as he had starred in dozens of B's throughout the 1930s.  He might've remained in this open range purgatory if John Ford had not rescued him with Stagecoach in 1939. But throughout the 1940s and 1950s, with directors like Howard Hawks and Anthony Mann, the genre took on darker tones and shadings. The Searchers reflects this complexity with a protagonist who is a rabid racist. The psychological aspects of his character, however, were not immediately recognized at the time– Ethan's mission to kill his niece who had turned "Comanch"– because '50s audiences always thought of Wayne as the hero no matter what. Though Jeffrey Hunter is the true "hero" of the film, audiences nevertheless related to Wayne. Over the decades, critics and historians have made commentaries on the film's impact and extrapolated upon its themes. Though racism against Native Americans is not a hot topic issue today, we can nevertheless project the film's racist attitudes and prejudices onto our own society. That is the greatness of The Searchers, that it can resonate and speak to us now in 2016. It's a film with a great deal of truth made by people who knew the West. The Indians in the film are not the Indians of modern Hollywood– the noble innocents of Dances With Wolves. The film shows the Comanches as brutal killers and abductors. Yet, it also depicts the horror they suffered in the wake of the Union troops. The scene of the dead Indians  in their devastated camp is brief, but by showing it Ford acknowledges the other side– the other viewpoint. Some fans have taken exception to the "side trips" in the story– the subplot involving the love triangle with Ken Curtis, Vera Miles, and Jeffrey Hunter. And some even find fault with Ford's humor in general. (Roger Ebert wrote about the film as though apologizing for it, but then, Ebert was never a film historian.) There is certainly broad humor in the story– Ford no longer had Darryl Zanuck to rein him in as he had done at Fox– but all of this is as much a part of Ford's universe as Monument Valley itself. Ford was all about family, tradition, and the frontier community, and his juxtaposition of humor with tragedy within this framework was not unlike scenes in Shakespeare. Like the Immortal Bard, Ford was a great storyteller, but he told his stories visually in a 20th century art form.
9) Max Steiner Score. Max Steiner, perhaps the greatest of all the studio composers, created one of his most memorable scores for The Searchers. If you appreciate film music–  and if you can find it– we highly recommend you pick up the soundtrack offered by Brigham Young University. This limited edition cd features a booklet with liner notes by James D'Arc, curator of the Max Steiner Papers at BYU. The recording is absolute gold. What you hear is the subtlety and nuance and the historical motifs of a hauntingly beautiful score.
10) October Show Announced. Unlike other venues, we don't announce next month's film until the day of the current show. In part, this is meant to build anticipation– to get people to come out and see what's next. But we do it primarily because the season is always changing. If we can get a guest for such-and-such film in late spring, it would make sense to keep that month open. We're always looking to put together the biggest and best shows we possibly can, so we don't want to set anything in stone too early. We can say that our fourth annual "Halloween Horrorfest" will take place on October 27, 2016.
~MCH
The Searchers will be screened at 2 PM and 7 PM on September 15, 2016. Admission is $6 for the matinee (feature film only) and $10 ($8 advance) for the evening show.