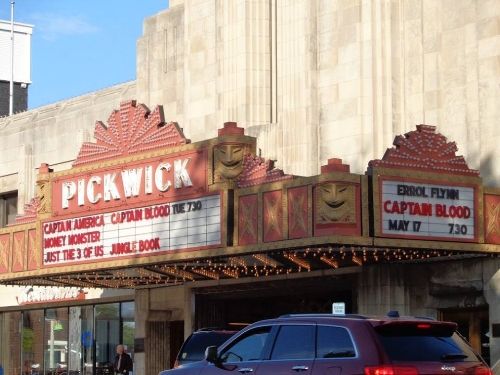 This past week Hollywood Royalty came to Park Ridge–the daughters of two acting dynasties!
Thank you to the nearly 400 fans who came out on May 17, 2016, to see Captain Blood with special guests Rory Flynn (daughter of Errol Flynn) and Taryn Power-Greendeer (daughter of Tyrone Power). The ladies met with fans in the theatre lobby before and after the screening. Onstage, Rory was interviewed about her father and took a few questions from the enthusiastic audience. One of the great highlights of the evening was a beautiful letter from the legendary Olivia de Havilland, which Rory generously shared with us. (Since this letter was personal, written specifically to Rory from Olivia, we're not going to post the contents on the Internet. However, there was a nice follow-up article online in the May 24, 2016 issue of the Park Ridge Herald-Advocate about Rory's appearance. Click Here!)
We are extremely grateful to our special guests and to all our patrons who attended. With your support this season, we averaged 466 people a show! Thank you!!!
Thank you to Nick Digilio of WGN Radio and to Turner Classic Movies for their continued support.
And thank you to our staff A-Team: Movie Hostess Allison, Shannon (our ticket taker), and Elizabeth (our photographer). Finally, our evening with Rory & Taryn would not have been possible without the generous assistance of Evelyn Delmar!
We'll be back September 2016!
Taryn Power meeting with fans…

Taryn Power-Greendeer, program host Matthew Hoffman, and Rory Flynn

Congratulations, Steven, winner of our Captain Blood treasure chest!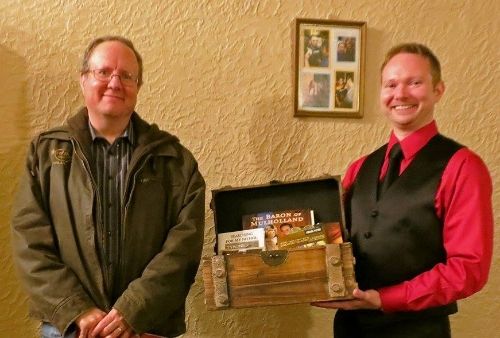 Shannon, Matthew, Elizabeth, Allison