On May 31, 2015, the Music Box Theatre in Chicago will be presenting a screening of The Set-Up (1949) starring Robert Ryan. Lisa Ryan, the late actor's daughter, will be a special guest. In addition, author J.R. Jones will be discussing his new book, The Lives of Robert Ryan (2015). I've been asked to moderate a Q&A with both guests.
My own association with Lisa Ryan began in the spring of 2009 when I contacted her about a screening of The Set-Up I was doing for the Park Ridge Public Library. This was a series on Film Noir– my first program since leaving the LaSalle Bank Theatre revival house in 2004.
The following is a partial transcript of my introduction to The Set-Up on April 23, 2009. Though she was not able to join us in person, Lisa Ryan was generous enough to share some of her memories of her father. (NOTE: Like the flashback within a flashback within a flashback of the film noir The Locket (1946), this written account has me addressing a library audience and reading a letter from Lisa, who writes about her letter to the editor of the San Francisco Chronicle, which in turn includes a letter from her father.)
~M.C.H.


Tonight's film is one I had screened when I operated the LaSalle Bank Theatre. It was part of a 6-month program called Son of Noir. But my first experience seeing it was on the late late movie on WLS Channel 7, which would often run the B-movies and programmers from the RKO studio. RKO was very much the "House of Noir" as so many of the great low-budget film noirs came out of that studio. A strong case could be made that The Set-Up is the best of the bunch in our current series. It was directed by Robert Wise, who was a terrific visual storyteller. For this presentation, however, I would like to put the emphasis on its star, Robert Ryan, who plays an over-the-hill boxer "one punch away" from the big time.
Chicago-born Robert Ryan was a terrific actor– one of the most underrated in American cinema. He was also one of the heroes of noir because of his portrayals of some truly nasty characters. No one could be meaner gritting his teeth than Ryan, but in The Set-Up, he has a sympathetic role as fighter Stoker Thompson. His career included such classics as Crossfire, Act of Violence, Caught, The Racket, On Dangerous Ground, Clash By Night, Beware, My Lovely, Odds Against Tomorrow— and those are just the film noirs. Some of his other films include The Naked Spur, Bad Day at Black Rock, God's Little Acre, The Professionals, The Wild Bunch, and The Iceman Cometh. Best remembered for playing racially intolerant or psychologically intense characters, Ryan was very much the antithesis off-screen. He was quiet and soft-spoken and a very socially-conscious man– a "solid citizen," as director Robert Wise described him.
In recent months, I've had the good fortune of meeting Lisa Ryan, who is Robert Ryan's only daughter. Though she lives in San Francisco and could not be here with us tonight, she is very much aware of our series and appreciates this screening of her father's favorite film. Regarding the popularity of film noir in general, Lisa has said her father "would be amazed that Film Noir is such a big deal… sixty years later. I think he'd be totally baffled! My mother told me a hilarious story about being in Paris with my Dad in the early 70's… and being approached by a group of kids who turned out to be film students. They got down on their knees, on the sidewalk, in front of my Dad, bowing down to him as if he were some religious figure. I don't know if there are rules about language here, so I'll just say that my Dad's comment reportedly was: 'What the f*** is WRONG with these French people? Are they all INSANE?'… I don't think he even knew what 'Film Noir' was… he took the parts that RKO wanted him to play… and happily for us, some of them were pretty amazing!"
And one of the most amazing parts was in The Set-Up. Robert Ryan was perfectly cast as a small-time boxer since he had been the intercollegiate heavyweight boxing champion at Dartmouth College. As Stoker Thompson, he is a heroic figure– the common man– fighting in a world of corruption peopled by those hungry for sensation. Far removed from the boxing world of Madison Square Garden, Paradise City, where the story takes place, embodies the perfect pulp world. It is a place of cheap motels, penny arcades, and shady deals. You can almost smell the sweat and cigar smoke. Here, it seems everyone is down on their luck. But unlike the others, Ryan maintains a quiet nobility. He is reaching the end of the road and he knows it, but he's got one last chance to prove himself.
The Set-Up was based on a narrative poem by Joseph Moncure March. The original character of that version was an African-American named Candy Jones. Art Cohn, who had been a sportswriter in San Francisco, wrote the very cynical and unsentimental screenplay. Many of his own personal observations about going to the fights found their way into his script, such as the blind man who follows the action of the fight with the aid of a friend.
Robert Wise directed the film in real time. In other words, the movie is 72 minutes long and the action of the story unfolds within 72 minutes of real time in the lives of these characters. The film is beautiful in black and white, but for us, it would look even more remarkable shown in 35mm. Many people refuse to watch a black and white film, and that's a sad mentality to have when films like The Set-Up are so stunning to watch.
It's also a perfect example of how to edit a film. Modern filmmakers have lost sight of this in their attempts to jolt an audience with fast POV shots and sensory overkill. At 72 minutes, The Set-Up is tough and lean– like a fighter, as Martin Scorsese pointed out in his praise of it. Robert Wise knew when to cut and when not to. He knew something about putting a film together having edited Citizen Kane.
Like the ringside audience, we see the fight as it would naturally unfold without the gimmicky camerawork. Robert Ryan, with boxer/trainer John Indrisano, helped choreograph the fight scenes. There's a realism to it– none of the slow motion close-ups in contemporary boxing films where you see a mouth piece flying through the air after a punch. The fight scenes are very visceral and primal. In The Set-Up, when a character hits the dust of the canvas, you feel as though you are in that ring. The entire film is very realistic, though Martin Scorsese has suggested it's a heightened reality, like a painter's view of reality.
The Set-Up is visually a very stark film photographed by Milton Krasner, who had been the cinematographer on last week's movie, A Double Life. You can see how fluid his camera is and how it captures a sense of place and a sense of the people in just the opening minutes with shifting points of view.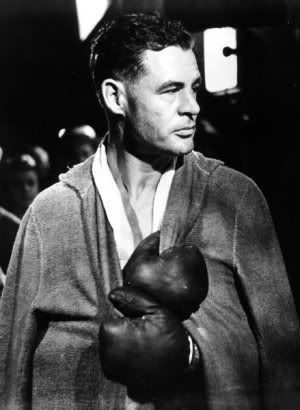 Having viewed it again recently, another thing that struck me was the use of sound in The Set-Up. There is no grand, orchestral underscoring. You hear the ring bell instead of any title music. Sound plays an important role in the film as it sets the mood. It's one of those movies where everything fits together so well, where every image and sound has a reason for being there.
The film was shot in about 19 days and received excellent reviews when released. It had originally premiered at the Cannes Film Festival in 1949 where Robert Ryan received a Best Actor award. Besides being Ryan's favorite picture, The Set-Up would be Robert Wise's as well. That's saying something considering he had made such classics as The Body Snatcher, Curse of the Cat People and, after leaving RKO, The Day the Earth Stood Still.
No doubt if The Set-Up had been a foreign film it would probably have been hailed a masterpiece. But the general perception was that it was simply a great B movie. Only in recent decades, with the rise in popularity and appreciation for film noir has The Set-Up been recognized as an American masterpiece. It is one of the best films ever made about the sport of boxing.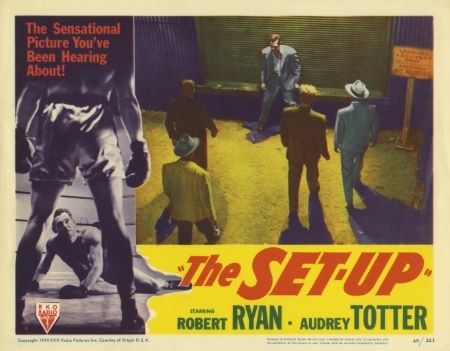 Just the other night, Lisa Ryan sent me this email which I would like to share with all of you… Lisa writes…
Matthew-
……
This is also probably not useful… but there's been an ongoing exchange of letters to the editor in the San Francisco Chronicle about inappropriate laughter during screenings of classic Noir films at the last big Noir festival here. It's turned into quite a hot debate– so I thought I'd add my 2 cents– here's the letter I wrote (so far not published):
Yet another opinion about 'disrespectful laughter'
Editor-
Some years back I attended a screening of the classic boxing noir film "The Set-Up" at the Castro Theatre.
I'd only seen it on TV and was looking forward to seeing it on the big screen because A) it's a great movie, and B) the central character in the story– Stoker Thompson– was played by my father, Robert Ryan.
The end of the film is totally heartbreaking, as a battered and broken Thompson, calling to his wife, staggers out of an alley behind the boxing arena and collapses in the street. His wife (played by the fabulous Audrey Totter) rushes to his side and comforts him as he gazes up at her and says: "Julie, I won tonight. I won!"
It never would have occurred to me– until I saw it at the Castro– that "The Set-Up" was a rollicking comedy. Who knew?
The inappropriate laughter throughout the movie reminded me of a story my father told me about performing 'Othello' at a matinee for elementary school children in England in 1967. He told me the story in a letter he sent me from the Nottingham Repertory Theatre:
"We had the last of the school matiness yesterday, thank God. They are a local institution whereby the local schools get a free performance of the current classic– in this case, of course, 'Othello.' Shakespeare naturally is sacrosanct, so 6 year old moppets are allowed to watch a play about murder, sexual jealousy, and foul conniving. The results are what you'd expect: we played The Big O to a constant storm of laughter which reached a crescendo in the bedroom scene. My killing of the lady was evidently funnier than the Three Stooges. We did 6 of these horrendous things and I feel that I have paid for all my sins in this world."
–Lisa Ryan
San Francisco
Gee– I wonder why the Chronicle hasn't printed my letter? It's only 10 PAGES LONG!
Anyway, I suspect your Chicago audience will demonstrate a lot more class…
About my dad and boxing… it was something he loved that stayed with him his entire life. Wherever we lived he always had a punching bag set-up, and worked out on it every day that I can remember. When we lived in New York he'd go running in Central Park wearing ancient wool sweatpants from his days as a boxing champ at Dartmouth. When I was in high school the sight of my 50-something dad running backwards around Central Park Reservoir, shadow boxing in his 1928 sweatpants was both hilarious and excruciatingly embarrassing.
He always carried a framed photo of the lightweight boxing champ "Baby Joe" Gans with him wherever he went. When I was growing up, Joe Gans always occupied a position of prominence in our living room, hanging over the fireplace. I never really thought about Joe Gans until years after my dad died, and when I finally did some research on him I was really surprised to learn that he'd died in 1910!
In the 1960's my dad added a framed portrait of Muhammad Ali to his boxing shrine.
OK– that's all I can think of– maybe you can use some of this– have fun!
–Lisa
NOTE: Lisa's letter was published on May 3, 2009 by the SF Chronicle, though heavily edited.
For more about Robert Ryan, refer to J.R. Jones' The Actor's Letter, originally published in The Chicago Reader in the fall of 2009.