Dear Matthew,
Please just say to the audience that not only I enjoyed immensely making the film but even until today, I am reminded continuously by my fans how much they loved my performance and therefore fifty years later I am still reaping the benefit of being a Bond Girl.
Bless them all for me!
Thank you and good luck!
Warmest regards.
Luciana Paluzzi
The line to get in! (photo courtesy of Kenny Chmielewski)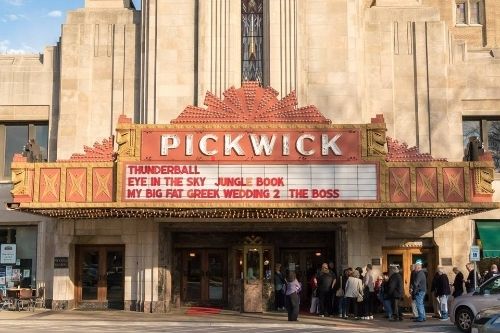 Over 500 patrons attended our 50th anniversary screening of Thunderball on April 21, 2016. The screening was a popular event for the community with many people in the lobby trying to get either a glimpse of the Vulcan Bomber model or meet New York Times best-selling author Raymond Benson. We also had a large amount of memorabilia from the film on display, courtesy of guest Colin Clark of the Ian Fleming Foundation.
We gave away some Bond prizes courtesy of the Ian Fleming Foundation. The grand prize was the tour of the IFF James Bond vehicle and prop facility in Kankakee, IL. There were multiple winners for this rare opportunity! The last prize was our giant "Bond Basket," which we were raffling off.
Organist Jay Warren performed the pre-show music. His James Bond themes on the Mighty Wurlitzer sounded magnificent!
We had so much going on around the movie, but the real surprise of the night was the quality of the film itself. The color and detail of this particular DCP presentation was extraordinary– so much so that our long-time projectionist commented that it was one of the best restorations he had seen. The film looked absolutely gorgeous on the big screen.
Thank you again to everyone who came out to support the Pickwick Theatre Classic Film Series!
We dedicated this screening to IFF Chairman Peter Janson-Smith and Guy Hamilton, the director of Goldfinger. Both of whom had recently passed away.
Shannon & Elizabeth with the Vulcan Bomber!

(photo courtesy of Kenny Chmielewski)

James Bond Author/Film Historian Raymond Benson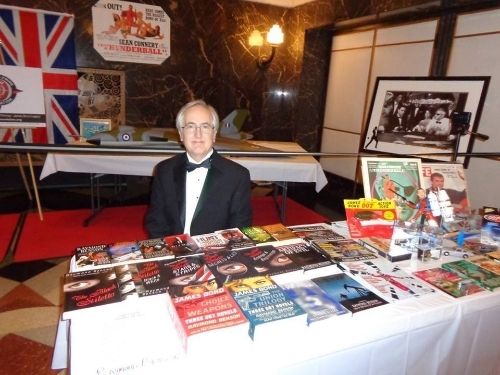 Raymond signing copies of his novels! (photo courtesy of Kenny Chmielewski)

Colin Clark of the Ian Fleming Foundation

Giving stuff away! (photo courtesy of Kenny Chmielewski)

Shannon with Colin's homemade speargun!

Our "Bond Basket" winner, Sue!