You can see movies anywhere, but there's only one place where it becomes an event…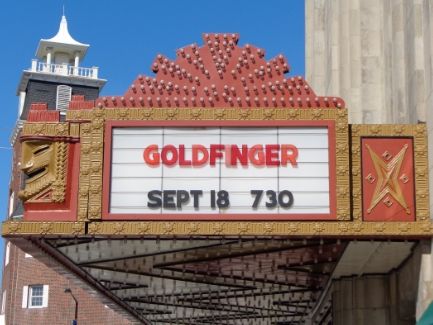 What: 1964's Goldfinger (DCP digital restoration)
When: September 18, 2014 * 007:30 PM
Where: Pickwick Theatre, 5 S. Prospect Ave. Park Ridge, IL
Who: Ian Fleming Foundation (represented by Colin Clark) will be our guests;
Organist Jay Warren will perform prelude music beginning at 7:00 PM.
Why: We will be honoring this legendary film's 50th anniversary.
(Originally released in September 1964.)
We'll also have a prop used in the film on display in our lobby.
How much: Admission is only $7; $5 for seniors.
Auric Goldfinger (Gert Frobe), the greediest of tycoons, plans on cornering the gold market and blowing up the world economy by way of Fort Knox– "Operation Grand Slam," he calls it. And there's only one man who can stop him: Bond, James Bond (Sean Connery). But 007 will have to duck Oddjob's hat trick and talk his way out of a laser castration in order to do it. "The hotter the danger, the cooler he takes it!" Production designer Ken Adams' 'cathedral of gold' within Fort Knox is one of the many highlights in what many regard as the greatest Bond movie ever made. (Director Guy Hamilton even makes golf look interesting!) A gold-plated classic with style, sophistication, and plenty of action, this was the film that kicked off a cultural phenonmenon which is still going strong today. With Honor Blackman as Pussy Galore (the man-hating pilot who gets 'turned around' by Bond's charm), Harold Sakata, Shirley Eaton, and Bernard Lee. Screenplay by Richard Maibaum and Paul Dehn and based on the novel by Ian Fleming. Music by John Barry with unforgettable title song performed by Shirley Bassey.
Shirley Eaton's golden girl became one of the most iconic images of '60s cinema.

A Pickwick Theatre exclusive! The JetStar jet model, used in the making of Goldfinger, will be on display before our show! (photo courtesy of the Ian Fleming Foundation)

On Thursday night, one lucky theatregoer will win an Aston Martin DB5… well, sort of.