Since 2009, I've visited the hometowns of several Hollywood stars, including Fredric March, Irene Dunne, and Harold Lloyd. In each instance, I discovered a wonderful small town that shaped the person behind the image. In November 2015, I was able to stop in Winterset, Iowa, which is most famously known as John Wayne's hometown.
The town of Winterset is located in Madison County, Iowa, which received a revival of interest with the publication of the 1992 novel The Bridges of Madison County.
John Wayne, who would go on to become a Western icon and the embodiment of American values, was born Marion Robert Morrison on May 26, 1907. The family home is located at 224 South Second Street. When Marion was six years old, his father relocated the family to Southern California.
The following are some photos taken from that memorable visit to this all-American town.
~MCH
Entering Winterset, Iowa. The Madison County Court House.

The front of the John Wayne Birthplace Museum.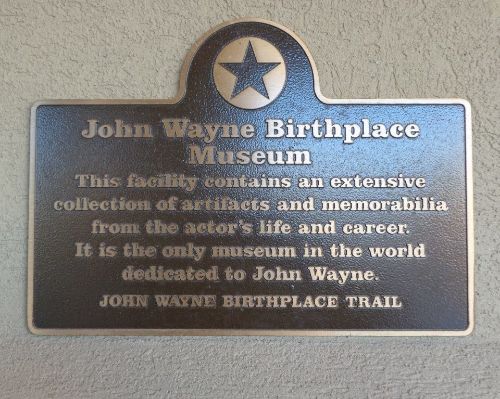 The bricks lining the walkway in front of the Museum.

The birthplace is around the corner from the museum on the same block.